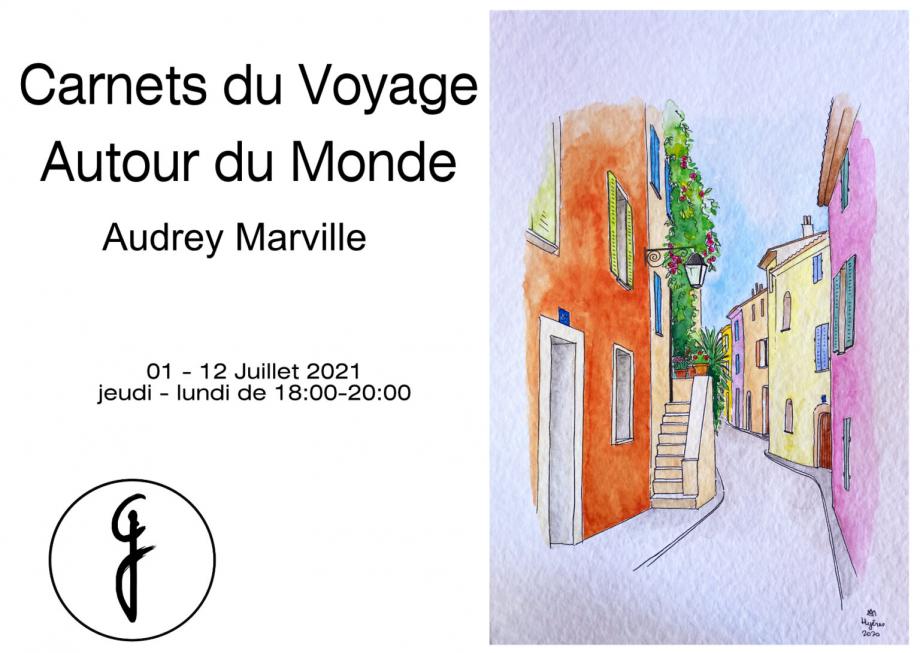 Dans notre deuxième exposition de la saison Audrey Marville vous emmène en peut atour de monde.
Audrey est une artiste multidisciplinaire originaire de la région parisienne et attirée depuis toujours par l'ailleurs. Designer graphique de formation, elle s'inspire de ce qu'elle découvre lors de ses voyages pour ses créations. Passionnée depuis toujours par l'ethnologie et l'humanitaire, elle développe en parallèle de sa carrière, son projet artistique à dimension sociale (pour en savoir plus, rendez-vous sur miroirsnotrehistoire.wordpress.com).
Après avoir fait le tour de l'Asie en 2014, Audrey cherche à s'installer plus longtemps dans certains lieux pour vivre et interagir avec les locaux, apprendre à découvrir leur culture et leur héritage. Elle a vécu entre autres en Australie, en Hongrie, au Népal, en Malaisie et en Grèce.
Elle produit ses carnets de voyages en aquarelles ou à l'encre de chine.
Provence
"Souvenirs d'un été dans le Var. Des couleurs radieuses et vibrantes qu'il m'était impossible de ne pas retranscrire en aquarelle. Partout où le regard se pose, des paysages lumineux l'émerveillent. J'aime imaginer le chant des cigales quand je les peins."
Myanmar
"Le premier pays de mon grand tour d'Asie en 2014 fût le Myanmar. Ce magnifique pays venait d'ouvrir ses portes aux visiteurs étrangers quelques années plus tôt et était encore timide avec les touristes. Les locaux à l'accueil véritable m'ont fait découvrir leurs coutumes et des paysages allant des terres rouges arides du centre du pays aux bords verdoyants du lac Inlé."
Ouzbekistan
"Après avoir voyagé au Kirghizistan et au Kazakhstan, j'ai passé deux semaines en Ouzbékistan. Le dépaysement fût total. De mosquée en mausolée, j'ai été éblouie par cette architecture aux mille couleurs de la terre et du ciel, fabuleusement érigée dans le souci du détail au milieu du désert. Les merveilles de la civilisation."
Dessins a l'encre de Chine
Extraits de multiples carnet de diverse destinations : du Pérou à la Nouvelle-Zélande, du Qatar à la Russie, du Japon à la Colombie, de l'Australie à la Grèce. 
L'exposition a lieu du 11.06. au 28.06.2021 et est ouverte du jeudi au lundi de 18h00 à 20h00.
---
In our second exhibition of the season Audrey Marville takes you on a journey around the world.
Audrey is a multidisciplinary artist from the Paris region who has always been attracted to other countries. Trained as a graphic designer, she is inspired by what she discovers during her travels for her creations. She has always been passionate about ethnology and humanitarian issues and is developing her artistic project with a social dimension in parallel to her career (to find out more, go to miroirsnotrehistoire.wordpress.com).
After touring Asia in 2014, Audrey was looking to settle in certain places for longer periods of time to live and interact with the locals, learning about their culture and heritage. Among other places she has lived in Australia, Hungary, Nepal, Malaysia and Greece.
She produces her travel diaries in watercolours or Chinese ink.
Provence
"Memories of a summer in the Var. Radiant and vibrant colours that it were impossible for me not to transcribe in watercolour. Everywhere you look, luminous landscapes fill you with wonder. I like to imagine the song of the cicadas when I paint them."
Myanmar
"The first country on my grand tour of Asia in 2014 was Myanmar. This beautiful country had just opened its doors to foreign visitors a few years earlier and was still shy with tourists. The genuinely welcoming locals introduced me to their customs and landscapes ranging from the arid red lands of the central part of the country to the green shores of Lake Inle."
Uzbekistan
"After travelling to Kyrgyzstan and Kazakhstan, I spent two weeks in Uzbekistan. The change of scenery was total. From mosques to mausoleums, I was dazzled by this architecture with a thousand colours of the earth and the sky, fabulously erected with attention to detail in the middle of the desert. The wonders of civilization."
Chinese ink drawings
Extracts from multiple notebooks of various destinations: from Peru to New Zealand, from Qatar to Russia, from Japan to Colombia, from Australia to Greece.
The exhibition is open from 11.06. to 28.06.2021 Thursday to Monday from 6 to 8 pm.